To scare, scare oneself, surprise, have fun, etc. There are many ways to celebrate Halloween, the most important thing is to enjoy the evening or night out. Even though it will be a bit difficult this year, filter creators have found another way to let you enjoy this day of terror. So let's talk about our selection of the top 10 Instagram Halloween filters.
Trippy Skull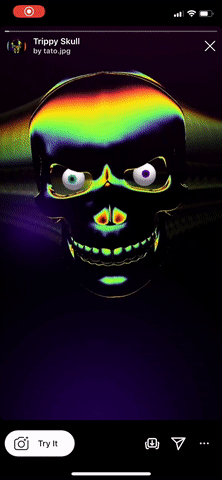 Let's start with the Tato Fernandez filter: Trippy Skull. This filter is reminiscent of the theme of the Mexican festival Día de Muertos (Day of the Dead). It transforms your face into a skull that is more funny than scary, with very bright colors and a very humorous facial expression. He emphasizes that Halloween is above all a day to have fun.
Xenomorph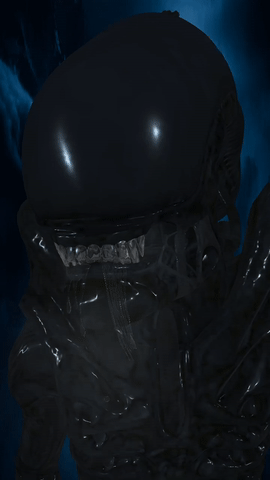 The dark and disturbing atmosphere of the Alien films has frightened many people! The Xenomorph filter, made by Bangdellenok, invites you to become the villain of the story: be afraid of no one and make everyone tremble with fear. The inky black color of the beast, its dripping saliva and the dark background make this filter very realistic... to give nightmares.
Halloween susto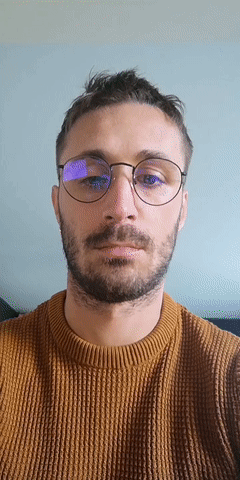 Leticia Coradim invites you to discover what happens if your face is scratched, with her Halloween susto filter. Small problem, you won't discover your bloody skeleton, but even worse a cursed and corrupted green skull. Luckily, it's only a filter, but with Halloween night, you never know...
I see you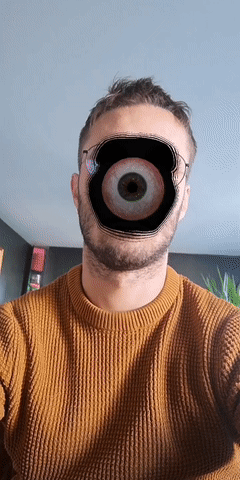 What an uncomfortable situation to feel observed without knowing by whom. Superwrong magazine's filter allows you to become this disturbing presence: a large single faceless eye from another dimension that observes its victims unaware of the danger. We have only one thing to say: I see you!
Pumpkin Spooks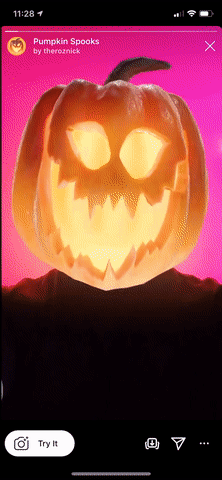 A symbol of Halloween, pumpkin heads are everywhere during this holiday. So Theroznick has concocted, for the bravest, a good Jack-O'-Lantern head named Pumpkin Spooks. It's a perfectly made pumpkin head with very smooth expressions, so much so that you would think you were there.
Zombie Dance Party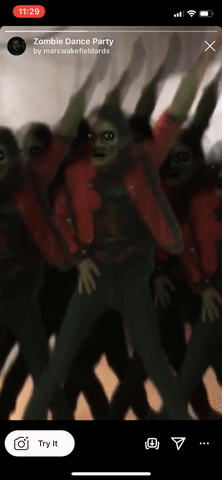 You're alone on Halloween, it doesn't matter, turn into a Zombie and spend the evening with your other zombie buddies from the Zombie Dance Party filter. This filter from Marc Wakefield is ideal for creating an ambiance for yourself. And why not create a video clip like in Michael Jackson's famous song: Thriller? All you have to do is find the right costume, and you can play the army of dancing zombies all by yourself.
Werewolfinator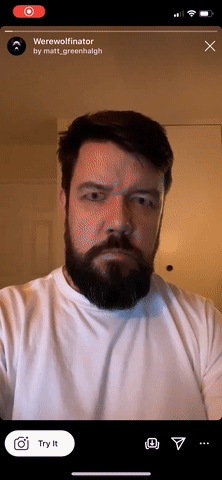 You dream of going out at night, leaping on the rooftops, being afraid of nothing, cornering your frightened prey with your pack thirsting for fun. The Werewolfinator filter won't offer any of this (except fun), but it will give you the opportunity to transform yourself into a werewolf. Matt Greenhalgh has made this beautiful filter that allows you to see your face gradually transform into the terrifying appearance of the full moon beast. Howl a big time!
LiL Creepy Doll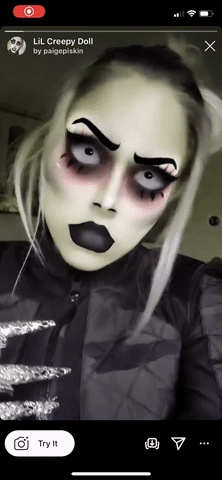 You want a little fantasy for this party that celebrates death? Why not play the bride on Halloween with the LiL Creepy Doll filter. The effect created by paigepiskin will make you embody or "em-corps" the Corps Bride.
Odd Eyes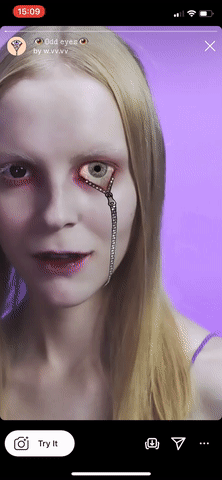 Let's admit it, seeing eyes in a jar is never reassuring in movies. What would you do if you discovered the same thing under your skin? The Odd Eyes filter offers to open your eyelid and face to discover...eyes under your skin. This creation of vv.vv.vv is to give you goose bumps: very successful, you must try it!
Halloween 2020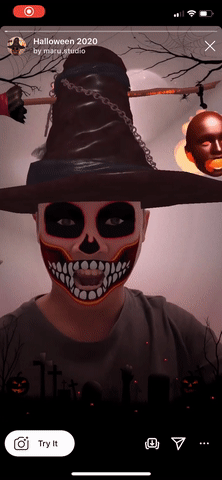 Halloween always rhymes with witch, pumpkin, bat, skulls , full moon, haunted city... So Maru Design thought of gathering all the great classics in one filter in Halloween 2020. And we can say that the result is very cool: the animations are superb, the details very refined and the atmosphere macabre. Little advice, remember to smile when you take a selfie.
Creepy Bolts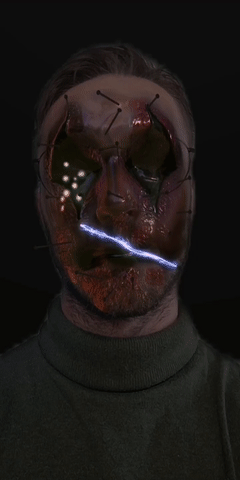 For those who counted, it's true we are already at 11 for this top 10. This bonus filter, Creepy Bolts, is an original creation of Flamingo Filter. We warn you in advance the filter is not for the sensitive souls... perfect for the Halloween atmosphere! Take the time to become a tortured soul with a disfigured face, whose wounds are kept open by nails still running with electricity. The realism of the filter is to give you chills.
Here are the top 10 filters for this Halloween 2020. What other top 10 would you like to see for our future blog?