Since the end of 2019, the world of AR filters took a new dimension with the emergence of a new filter trend: "What are you filter?" also called "Random filter". We will explain you the secret recipe that made this filter viral. In total, this new type of filter has reached billions of views and millions of shares in few weeks.
SIMPLE FILTER
Simplicity is a major asset.
To use the "What are you?" filter, you just need to launch it and wait for the result. So there is just one instruction to begin. The best way to start this effect is certainly when the user is filming himself. In that way the surprise is automatically recorded, making the sharing more intuitive. It's a really good point because the user is more tempted to share it inside his story, visible by all his community.
"Shore Family" by the lovely @frenchsinger and on the right the awesome @jojolabiche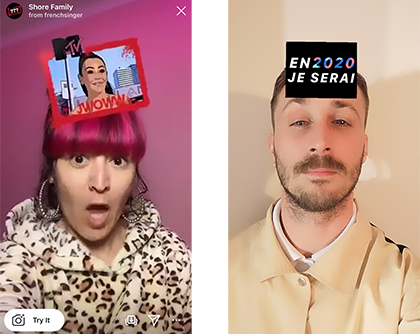 Another bright spot is that this filter only requires images to be created. At Flamingo Filter, we have added a "What are you?" template in our standard plan to allow you to quickly integrate it on your Instagram account.
INFINITE AR USE CASES
This type of filters can be adapted to an infinity of fields, from the widest to the most specific. Allowing to effectively target a distinct audience.
Such as for Disneyland fans "Which Disneyland Paris Attraction Are you?" @disneylandparis, "Which disney?" @arnopartissimo or more widely "What's your best quality ?".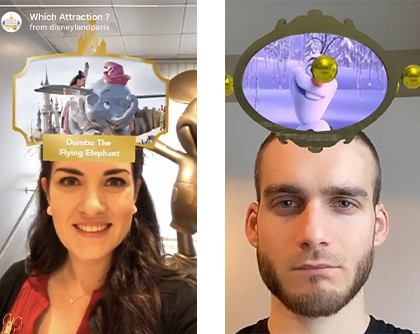 This is partly the reasons that make this principle as popular as it is, and this is why a lot of creators and major brands integrate it in their digital communication tools.
PLAYFUL EFFECT
The concept of having a random result with running images tends to look like addictive games as casino slot machines. The user easily takes himself to the game hoping to get the result he expects. This adds a playful dimension to the filter and not just an aesthetic, promotional or commercial behavior.
"IMITANIMALES" @sarionss and "Which Harry Potter?" @lukeleeofficial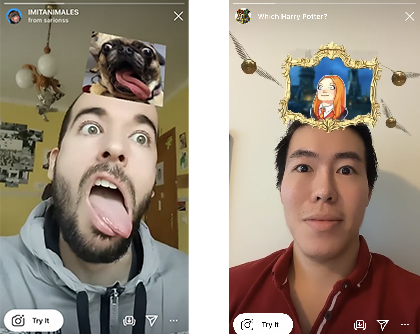 It may be inferred that "What are you?" filter has all the qualities to become popular. We are at the beginning of augmented reality on mobile and we can already see new concepts getting viral on social medias. This pushes us to create and to be part of the augmented reality conquest !