Augmented reality is an amazing tool that helps you to shop from home. You can try on glasses even clothes at home using AR and buy them online. But in other hand AR can also drive people to bricks and mortar store. While new generations prefer to shop online, in-store shopping experience stays incomparable. Hence the usefulness of using AR to promote this type of experiences.
HOW DOES AUGMENTED REALITY ENGAGE TO IN-STORE SHOPPING ?
In-store shopping experiences are reshaped due to the adoption of augmented reality. A lot of brands start to include augmented experiences in stores, largely driven by customer interest. A majority of shoppers says that AR makes shopping funnier and also that they would spend more time at a retailer if they could shop with AR. Introducing this technology in-store is a good way of increasing customer loyalty.

There is several ways to drive customers to stores using AR:
- Create a social media experience, makes it only available in-store. Users will share it and spread it among their followers which will drive them to the store to use it.
- Create an AR experience on social media as a trailer of an in store experience. The filter is a trailer of the unique and full experience that takes place in-store.
ADIDAS LONDON
Using Instagram on their smartphones, shoppers can scan three posters to reveal unique virtual experiences in-store and learn more about Adidas product innovations.
In this case you are a football player and you have to score as many goals as possible in 30 seconds, you are not just watching an experience but you are at the center of it !
Each installation was produced in collaboration with Facebook and its Spark AR platform.
As it is an experience created on social media everyone can access to it. The point is that to use it you need to go to the Adidas store. What a great example of drive to store using AR.
SKYBOY GALERIES LAFAYETTE
A great use of AR on social media in this case is to show on Instagram a trailer of the gigantic and magical experience inside the Galeries Lafayette. The experience has been made by Skyboy a french startup that develop augmented reality technologies. They have created the "Overlap reality" and used it to create the experience bellow in the Galeries Lafayette.
"Skyboy's "Special Polar Christmas" operation, transformed Galeries Lafayette into a virtual, ice-capped fairy tale by overlapping the real shopping area with animated images. This meant that the store's visitors simply needed to look at their smartphone or tablet windows to see a 360° polar landscape appear, even on the balconies and under the dome."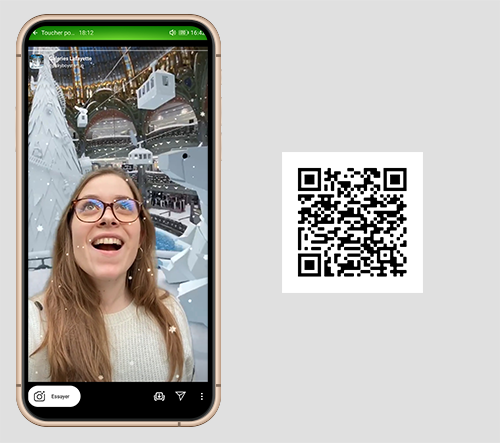 Here is a link to the AR filter made for this purpose: https://www.instagram.com/a/r/?effect_id=557034301531656
SEPHORA X SNAPCHAT
Last but not least, Sephora created with snapchat a game inside their shop where user could win gift cards. For this experience they used a geolocated snapchat lens that was only available inside 330 Sephora's shops. In each shop user could find stars that gave access to the gift card. This is a great example of drive-to-store augmented reality experience combined with game and geolocation. This operation has been relayed on the other social networks of Sephora, Instagram and Facebook as well as on the brand's YouTube channel.