With the approaching holiday season, it is important that an organization knows how to offer appropriate gifts to its clients, partners and team. The same is true for special celebrations such as a company anniversary or the beginning of a new partnership. The problem is that after several years of offering business gifts, it becomes more and more difficult to find an original one. Fortunately, with the advancement of augmented reality technology and the growing popularity of filters (Instagram, TikTok, Snapchat), professionals are now able to offer AR greeting cards.
Want to try AR greeting cards?
Corporate greeting cards are not such a great novelty. However, augmented reality specialists have been able to give them a new appeal, and the result is bluffing! In addition to the already sublime appearance of personalized greeting cards, AR effects bring elements that were never seen before.
About the design, the cards don't need to be made in any particular way for AR effects to be added. Your marketing manager will be able to customize your cards with the logo, colors, shapes, sizes and texts of your choice. The creator of the filter will know how to place the AR effects, whatever your customizations.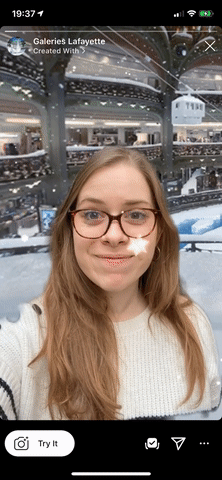 The success of AR Greeting Cards: offering something common to discover something unique
An AR greeting card is the ideal present to wish a happy new year or to celebrate a new collaboration, a partnership anniversary and much more. It's a simple gift that doesn't take up much space and slips easily into your wallet or briefcase. At first glance, an AR greeting card is nothing different from a standard one, except for the mention "scan with your smartphone". That's where the magic happens!
Once scanned, the greeting card turns into an attraction. It can be a 3D animation attached to the card, a portal to another world, an interactive game... The available effects are only limited by your imagination. You are in the field of sports equipment? Transform the card into a goal with a goalkeeper, the user will then try to score goals. Your field is travel? A Portal AR greeting card will make your customers discover new places and make them want to go and discover them.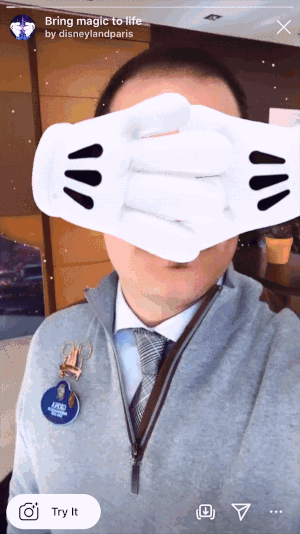 Important point to remember!
When you choose to integrate AR greeting cards in your marketing action, it is important that the effect is a light augmented reality experience. We talk about a light AR when the effect is available via your favorite social networks (Instagram, Facebook, TikTok...) or the browser (WebAR). Indeed, people want processes that are simple or that they are used to, any additional complication will make the experience less enjoyable.