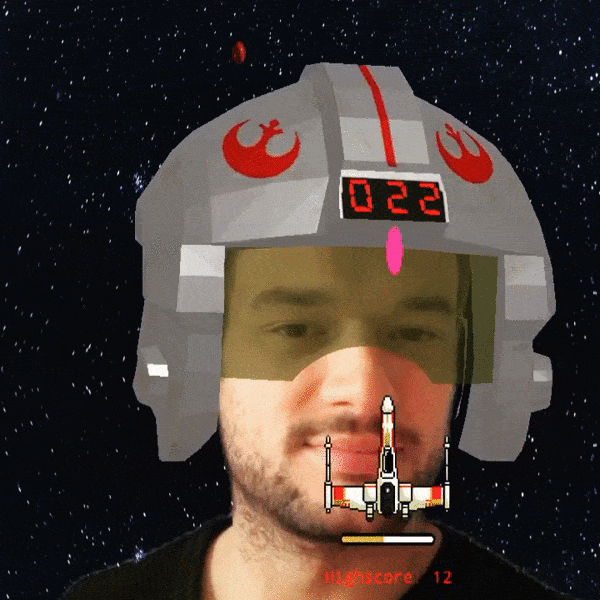 La réalité augmentée…. et non ce n'est pas un gros mot. Le principe est simple: ajouter au monde qui nous entoure des éléments virtuels. Dit comme ça.. et en plus pas besoin d'un casque ou d'un ordinateur surpuissant pour vivre une expérience en AR, ton téléphone suffit. 1 milliard d'utilisateurs de Facebook et Instagram en ont fait l'expérience via leur mobile en 2019[1]. Du côté de snapchat, précurseur dans ce domaine, 600 000 filtres (Lenses) ont été créé par la communauté Snapchat à la fin du 3e trimestre 2019 [2]. Avec 2.77 milliard d'utilisateurs sur les réseaux sociaux dans le monde, la Social AR est un excellent moyen pour partager la Force[3].
À l'occasion du "May the 4th" nous avons chez Flamingo Filter réalisé un jeux vidéo rétro gaming dans un filtre Instagram disponible sur notre Page Instagram. Combat les Stormtroopers aux côtés de Luke Skywalker dans son X-wing. À la fin du combat tu peux partager ton score simplement via une story.
Notre but chez Flamingo FIlter c'est avant tout de rapprocher les gens au travers d'expérience de réalité augmentée fun et délirante. C'est pourquoi nous avons pensé à un jeux rétro ou l'utilisateur arbore un casque low poly un peu barré. La facilité de partage en story te permet facilement de challenger tes potes, sachant que l'on sauvegarde ton high score !
Enfin, parce que pour nous, plus on est de fous plus on rit, on partage des tutos et des tips pour te permettre de créer ton propre filtre. Tu trouveras toutes les ressources nécessaires bientôt en ligne sur notre chaine youtube, notre instagram et sur notre blog.
À ton tour de créer des expériences et "May the 4th" be with you.