8th Wall est une Startup fondée en 2016 par Erik Murphy-Chutorian. Leur objectif est d'apporter la RA à tout le monde. Ils travaillent pour permettre aux développeurs de créer des expériences de RA sur les navigateurs Web mobiles.
Chez flamingo, nous nous concentrons sur la création d'expériences RA légères, ce qui signifie que l'utilisateur n'a pas besoin de télécharger une application pour essayer nos effets. La Web Ar est «le Graal» en termes de RA légère. Jusqu'à aujourd'hui, la Web Ar ne pouvait pas vraiment rivaliser avec la RA sur les réseaux sociaux créés avec Spark AR ou Lens Studio car il ne disposait pas d'une excellente technologie de suivi du visage.
La version 14 de 8th Wall for Web comble cette lacune.
"We're thrilled to be able to provide developers and agencies the tools they need to bring face AR to the web", a déclaré Erik Murphy-Chutorian, fondateur et PDG de 8th Wall. "With 8th Wall Face Effects, creativity and innovation is as limitless as the open web. We are excited to see what our developer community creates."
Nous l'avons essayé ce matin en utilisant un modèle de projet Face Effects disponible sur le site de 8th Wall, cela fonctionne très bien, nous avons pu ajouter nos modèles 3D et les placer autour du visage de l'utilisateur. Jetez-y un œil: https://flamingofacefilter.8thwall.app/face-effect/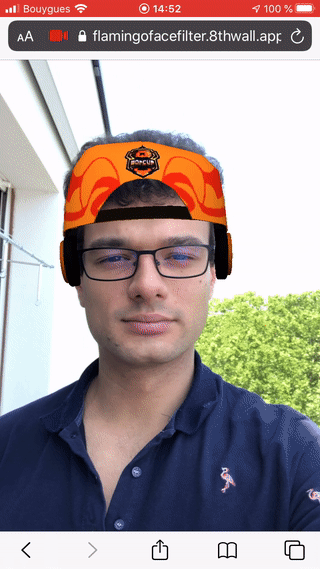 Le gros avantage de la Web AR par rapport à la Social AR est de pouvoir faire tout ce que nous voulons. Nous pouvons utiliser des données en direct, ajouter un CTA «acheter maintenant», rediriger l'utilisateur vers une autre page Web, etc.
Le suivi des visages était ce que nous attendions tous dans l'industrie de la Web Ar. De plus, pour permettre aux utilisateurs de partager plus facilement leurs expériences, 8th Wall ajoutera bientôt la capture et le partage de vidéos dans tous les projets Web Ar. Cela ouvrira de nombreuses nouvelles expériences incroyables, nous avons hâte d'aller plus loin avec la Web AR.
Voici ci-dessous un lien vers la démo officielle de 8th Wall Face Effects: https://8w.8thwall.app/face-effects/